Why do my teeth get stained?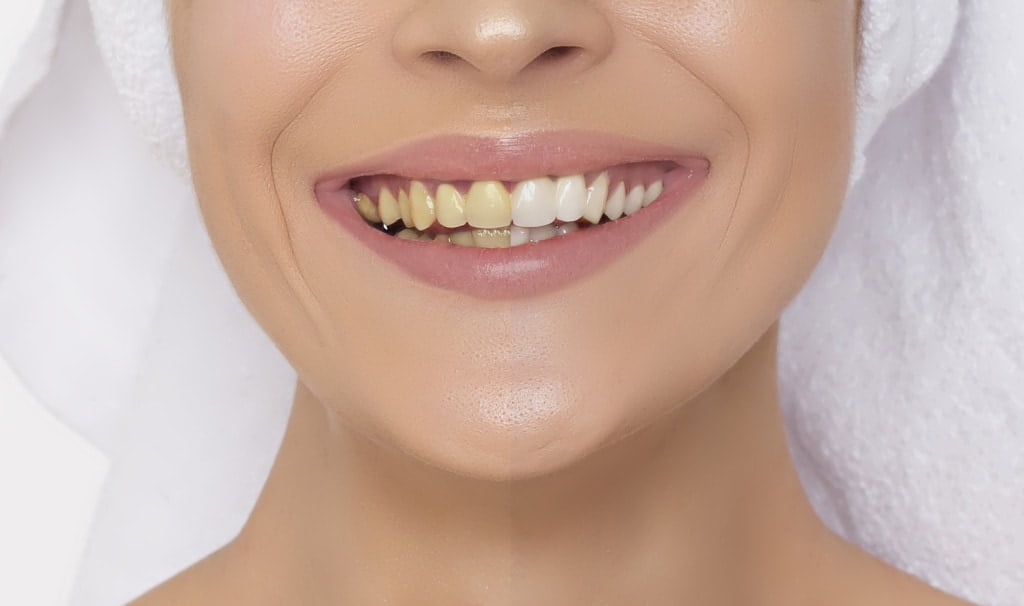 Our teeth are like sponges - they absorb the coloring of foods and beverages that we put into our mouths. Acidic and sugary contents such as carbonated drinks erode the enamel, increasing the absorption of stains from other food substances. Teeth also yellow over time due to pigmentation inside the teeth.
Fortunately, stains caused by food and beverages are easily reversible with good oral care, professional cleaning and whitening procedures.
Types Of Teeth Whitening Treatment
There are two types of teeth whitening treatments that individuals can choose to under-go. Depending on your preference, you may choose to do either treatment without the other, or both.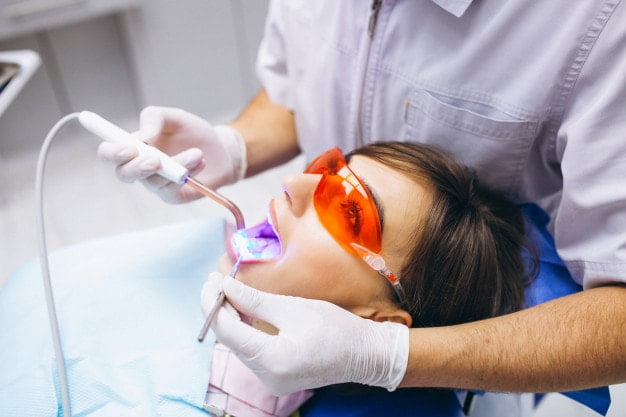 Chairside Teeth Whitening
An in-clinic procedure done by dental professionals that speeds up the process for a photo-shoot ready, bright smile. A boost for whiter teeth to compliment regular use of a Professional Home Teeth Whitening Kit.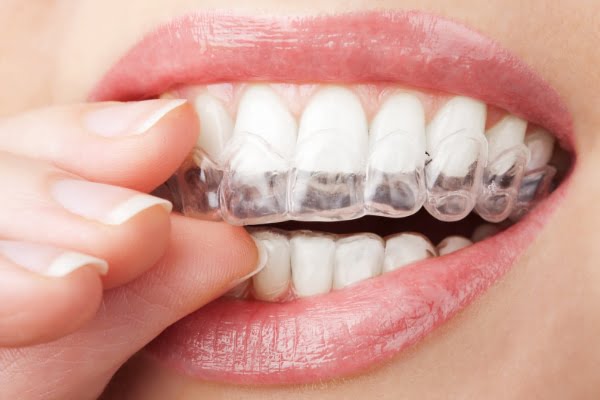 Professional Home Teeth Whitening Kit
Gentle and customisable, while effective and long-lasting - there's no reason not to love a Personal Teeth Whitening Kit! Easy on the pocket and reusable whenever necessary at home and even at work.
Chairside Teeth Whitening
Safe when done by a professional, teeth are gradually whitened by applying a higher concentration of dental bleaching gel on teeth surfaces, and activating the process of whitening with UV light. Chairside Teeth Whitening delivers fast results but tends to create a little more tooth sensitivity and discolouration relapse, and should not be carried out on a regular basis. However, it should not be done too frequently.
This is why at AllSmiles Dental Care, we encourage our patients to use a Professional Home Teeth Whitening Kit, in combination with chairside treatment. In this way, you may touch up your whitening in the comfort of your own home.
Professional Home Teeth Whitening Kit
Our preferred method of teeth whitening that is gentle on teeth, yet effective. Individuals can conveniently whiten their teeth with our Professional Home Teeth Whitening Kit at home, or while at work! And did we mention that it's also re-usable and affordable?
Our personal teeth whitening kits are custom made according to the teeth of our patients. Impressions of the teeth will be taken to create fitted trays to ensure that the dental bleaching gel is held along the surfaces of the teeth without overflowing. Bleaching gel will be dispensed by your dentist for use at home.
All that is needed to be done is to apply the gel onto the bleaching trays and put them over your teeth. At the end of the prescribed duration of wear, simply remove the trays and rinse off any excess product from the teeth.
Generally, teeth whitening is a safe procedure as long as you stick to dentist-approved methods. You may experience some side effects such as teeth sensitivity or irritated gums, after the procedure. However, these effects should go away a few days after the treatment.
Make an appointment with your dentist should discomfort persists for more than 48 hours.
Teeth whitening is not permanent. Your eating, drinking, and oral hygiene habits will impact how long your teeth whitening results last.
Results of in-clinic whitening procedure typically lasts 6 months and more, depending on your oral care and habits. Your dentist will be able to discuss with you methods that produce longer lasting results, such as using a Professional Home Teeth Whitening Kit.
We are unable to provide a definite response to this as there are too many variables involved such as type of bleach used, precautions taken during the procedure and skill of operator amongst others.
Dentists and dental clinics are licensed and regulated by a governing body unlike beauty salons. A dentist will also be able to screen your oral health condition thoroughly before any bleaching is done as not all patients are suited for teeth whitening on the spot.
Our advise will still be for you to consult with your dentist before proceeding with any dental whitening treatment.
No. Whitening gels that are effective on natural teeth does not take effect on dental implants. However, you may still proceed with the whitening of your natural teeth.
Depending on the condition of your teeth and your preferred outcome, your dentist will prescribe the regularity of use.
Usually, use of your teeth whitening kit would be done daily for 2 weeks or shorter if you have achieved your desired results, for about 30 minutes per session. This recommendation varies based on the brand of whitening kit used as well as individual criteria so it is best to check with your dentist when you receive your kit.
If you experience sensitivity at any point, you may use sensitive toothpaste or tooth mousse.